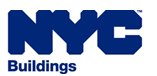 Injury/Fatality Incident Information
Property owners, contractors, subcontractors, and persons otherwise in control of a construction site for which a permit is required are required to provide to DOB, within 3 business days of the incident, specific information about incidents that resulted in fatalities or injuries to members of the public or construction workers. (See § 28-103.21 of the New York City Administrative Code.)




Use this form to provide required information about the incident. You can find some of the required information including violations and active permits in the Building Information System or the DOB NOW Public Portal. Failure to submit this form or provide all of the required information within 3 business days of the incident may result in a violation and a penalty of up to $5,000.